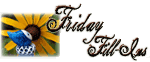 1. I can't believe I did reveal those things to him after keeping it for so many years, now it's time to move on.
2. Happiness for everyone.
3. How can I get away with my laundry on weekend? tell me. lol!
4. Rice 😀 was the last thing I cooked.
5. Six of one a half dozen of the other.
6. I want to eat cake, ice cream and spaghetti; nonono!
7. And as for the weekend, tonight I'm looking forward to watching a movie, tomorrow my plans include attending a meeting, get DD's report card and Sunday, I want to sleep whole day, as if!